NFV-based Service Assurance
Compose IT takes the lead in NFV-based Service Assurance together with SevOne & Red Hat!
Are Your company looking in to deliver new services that will be based on NFV-technology? We are sorry to say, but this will not make life easier, for any of You that might thought so, but very much the other way around. A NFV-plattform will insert another complex environment to operate and monitor! Compose IT are Service Assurance Specialists and we have now an offering based on SevOne´s pre-developed integration to Red Hat´s Open Stack Product Suite.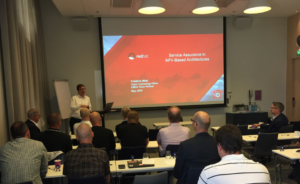 Picture:
Red Hat's Frederic Massi on-stage presenting Service Assurance in a NFV-based Architecture at the SevOne Now18 / Compose IT event in Stockholm on may 22nd 2018
Read more about the SevOne – Red Hat Service Assurance Solution here
Want to know more?
Please contact Us at Info@compose.se